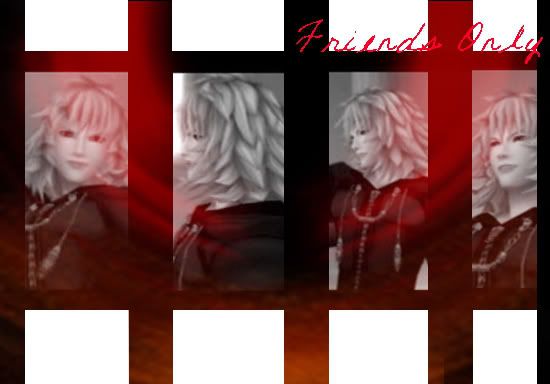 Friends Only. Comment to be added, lovelies ♥~

COMMENTS CLEANED OUT 7/23/07 BECAUSE I H8 U GAIZ.

No, just kidding. But I did clean them out because there were comments from about a year ago.
Who I play
Kingdom Hearts: Sora, Marluxia, Xemnas, Naminè, Roxas.
Fullmetal Alchemist: Barry the Chopper, Envy, Edward Elric, Russel and Fletcher Tringham, Dante.
D. Gray-Man: Linali Li.
Bleach: Ichigo Kurosaki, Rukia Kuchiki.
Harry Potter: Harry Potter, Hermione Granger.
Pirates of the Caribbean: Barbossa

What I'm looking for
Fullmetal Alchemist RPers, Kingdom Hearts RPers, RPers who don't speak 1337.

What I'll play
Fantasy, Kingdom Hearts, Fullmetal Alchemist, medieval, Elder Scrolls-type environment, InuYasha, multi-fandom, yaoi, yuri, shonen and shoujo-ai, horror, original characters.

What I will not play
Lemon, future-type, sci-fi.

How I RP
Livejournal RPs are preferred. It's easier, and if one of us has to go, we can continue from where we left off ♥ However, I do play on MSN messenger, maybe Gchat.
Current Location:

Room

Current Mood:

whee~

Current Music:

InuYasha


1. One secret.
2. One compliment.
3. One non-compliment.
4. One love note, but it does not have to be for me.
5. Lyrics to a song.
6. How old you are.
7. How long we've been friends.
8. And a hint to who you are.
9. After you do it for me, put it in your LJ and see who does it for you.
Leave an ANONYMOUS comment with:
Current Location:

room

Current Mood:

bored

Current Music:

miscommunication;;timbaland


Yeah, that's right.

Fuck you for ruining the only chance I had of having faith in my sister. At least she would have fessed up.

I was wrong. You all won. Go fucking celebrate because I'm obviously a retard who doesn't know a thing.

edit: ...I-I've calmed down quite a bit. I admit that I was being quite a bitch about some of the things I said. But really, some of those things that some of the people said were extremely uncalled for and hurtful. But I apologize, and am extremely sorry.
Fuck you guys.
Current Location:

room

Current Mood:

bouncy

Current Music:

degrassi